- Kevin Mitnick's bus card
How insane is this business card, if you've read this book
Takedown: The Pursuit and Capture of Kevin Mitnick, America's Most Wanted Computer Outlaws - by Tsutomu Shimomura
* then you would know that this is something very "Kevin" like. haha
* essential reading for the nerd in ALL of us.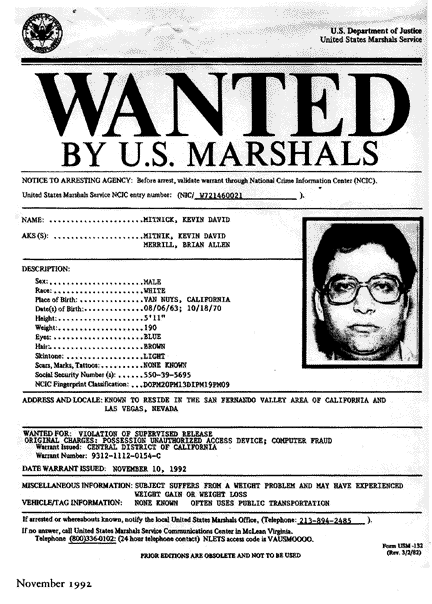 - If Anyone has this track or has anyway of aquiring it, I will be forever in your debt and/or hook you up with some shit.
Got My Mind Set On U - Jim'll Mighty Club Remix
- America's new obsession with "rave"
What i'm trying to say is sure they've heard of daft punk and every blog and their dog is going on about "Blog House" likes it's some kind of new/neu(sic) RAVE music. Chigga pls. Have any of them been to a RAVE? bah humbug I say, if you can watch ep 6 of Spaced and understand/agree to EVERYTHING in that episode then you know whats up.
Case point been their canadian cousin
A-trak's
new 12" out on fools gold,
dirty south dance remixes.
Maybe this works in the states as you guys are still catching up, the blends are on point, but the music doesnt do anything, no peaks, no build ups, no troughs nothing... and you wonder why this doesn't work on the dancefloor. A-trak dropped a cpl of these @ the espy last year and everyone was like "um.. yeah".
A mate of mine likes this, he doesn't like dance music, go figure??!!
No hate, just saying.
- Jake Brown is built like a brick shithouse!
- Check out
Z-trip's myspace page
for a sneak preview listening of his new LP "All Pro", guests include: Aceyalone, Gift of gab, Lateef, Casual, Dead Prez, Deftones, Clutch + more.
- Dont forget bounce this weekend!
- "Menace 2 Society" will be debuting @ Manchovies on 18 Aug, 3rd Class & the following week @ BangGang 24 Aug, 3rd Class.
- IF you didn't know the "Roc Da Block" tour has been pushed back(to 29th Aug) due to working visa issue's with a cpl of artists, Juelz Santana & Mims have been removed from the line up and Pitbull & Sisqo have replaced them.
- I'm trying to incorporate Tay Zonday into my set, hhhmmmm... shit is magical!!
Tay Zonday - Chocolate Rain
- this goes out to the Opulent crew, I haven't abandoned you guys at all, truly!
- Ed reminded me of this, to be relased on Dec 4th.
Speaking of my cairns homies, wait for the proddy shot of all their wares from this lil skate expidition of their's! ahaha
-
This is the coolest shit EVER!