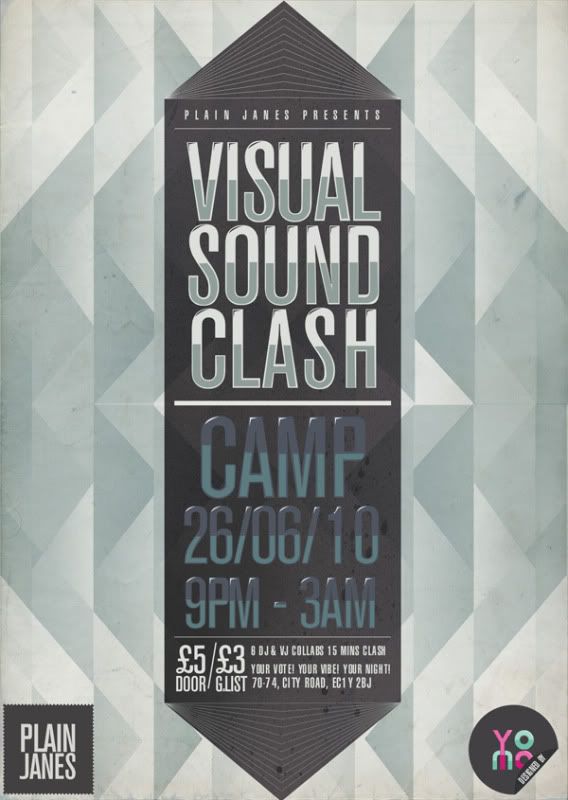 VISUAL SOUNDCLASH
LOCATION: CAMP
DATE: 26TH JUNE 2010
TIME: 9PM - 3AM
PRICE: £5 on the door £3 Guestlist
YOUR VOTE! YOUR VIBE! YOUR NIGHT!
The only night where you get to control what you see and what you hear!!!!
Plain Janes welcome you to the launch of their brand spanking new night. Visual Soundclash, a new bi-monthly night where we'll be bringing you mega collaborations between the freshest DJ's and Visual Artists on the scene. It's their job to battle it out for your visual and audio pleasure, while you party down at a new night with a difference.
To kick off the first Night the PJ crew thought we would throw down the Gauntlet first with our resident DJ 70EL from Electrocution who'll be bringing you his usual Electro mash up, he'll be teaming up with PJ's visual arts team to compete against DJ CWD who's been earning his stripes at Crepes City, YoMama, and already battling it out at Beef teaming up with the ifreecans collective who have presented at Camden Stables and Streetfest,
We've also got DJ, Fashion Designer and general creative genius PC Williams jumping on board with artist Daniel James Diggle who has worked with major clients such as Adidas, TMobile and Footlocker pushing illustration to the edge up against DJ Bambi from Yo Mama and Beef flexing his muscles with the Beddow n Battani crew to show us all which Creative Visual Soundclash Duo will reign supreme on the night.
Here
are the rules.
THERE ARE FOUR TEAMS OF DJS AND VJS
THREE ROUNDS WHERE THEY GET 15 MINUTES EACH TO WIN YOU THE AUDIENCE OVER
AT THE END OF EACH ROUND YOU VOTE FOR WHICH DJ GOT YOU THE MOST HYPE
THE DJ WHO WINS STAYS ON THE DECKS THE DJ WHO LOSES COMES OFF!!!
Contenders on the Night
Round 1
DJ 7oel (Electrocution) & VJ Truce Susan (Plain Janes)
Vs
DJ CWD (Beef) & VJ Gofoot Wonda (Ifreecans)
Round 2
DJ PC Williams & VJ Daniel James Diggle
Vs
DJ Bambi (Yo Mama) & VJ Wumi (Beddow and Battani)
AND IT'S AS SIMPLE AS THAT LADIES AND GENTLEMEN
SO MAKE SURE YOU DON'T MISS OUT BECAUSE THIS ONE IS GOING TO BE LIVE!!!!!
email: info@plainjanesarticulate.co.uk for Guestlist.