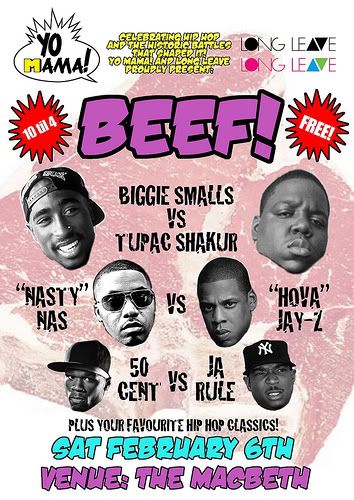 BEEF!!!!
A night dedicated to celebrating hip hop and the legendary beefs that helped shape it!
In true 'fight night' style, we'll be putting our favourite DJ's head to head to represent the artists responsible for the best beef in hip hop! The punchlines will be swinging, everyones coming correct with their hottest diss, and by the end of the night someone's gonna get knocked out!!!
THE MAIN EVENT: Biggie VS Tupac!
HEAVYWEIGHT TITLE: Nas VS Jay Z!
BAREKNUCKLE: Ja Rule VS 50 Cent!
We don't want to say these beefs will finally be decided during the night, I mean no-one could ever really call on some of these could they? WRONG! By the end of the night some of the biggest battles in hip hop will be finally put to bed in a pub in Hoxton. That's just how we livin.
Surrounding the main attractions, will be the usual Yo Mama! Long Leave party madness, playing all your favourite hip hop classics.
The ones in the know may even catch some scuffles in the mix - a quick MC Shan/KRS One, Eminem/Everlast, Lord Finesse/Percee Pee, Jeru/The Fugees, Canibus/LL Cool J or NWA vs NWA(!) beef thrown in for good measure!! Keep your ears pricked!
Yo Mama! and Long Leave present:
BEEF!
Saturday 6th February
The Macbeth
70 Hoxton Street
London N1 6LP
Ludacris ft. Rick Ross and Twista - How Low (Remix)