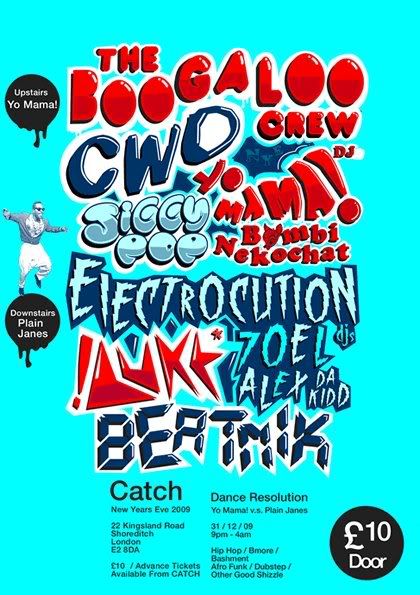 Come one come all.
As per the write up:
You ever get tired of those New Years Eves where you spend all night either waiting at the bar to get a drink, only to force your way onto a dancefloor where you can't breathe or dance, while the guy next to you throws beer onto your fresh-out-the-box trainers?
Yeah us too, so this year lets do it right!
Two of London's freshest, finest and most fleet footed promoters invite you to a night of good vibes, good music and most importantly the best footwork this side of a Ginger Rogers and Fred Astaire box set! This is going to be live people, ITS GOING TO BE LIVE!!!
YO MAMA! ROOM
Its been a year since Yo Mama settled at Catch with their mix of Hip Hop, Baltimore Club, Baile Funk and Gully pleasures. For New Years eve expect more disses than ever before, more decorations, and treats provided especially by yo mama to bring that party flavour!
DJs:
-> THE BOOGALOO CREW (Trouble Vision)
These talented young producers started out mixing a combination of Baltimore Club beats with garage rhythms and Hip Hop influences to a standard that is far too high, someone should stop them really.
-> CWD
Having cut his teeth playing with Diplo, South Rakkas Crew, Tittsworth & Ayres and many more painfully famous people, CWD is a master at what he does. Scratching, beat juggling, singing along to Ginuwine, you name it he does it!
-> JIGGY POP/SHOOK ONES (Why am I so beat?)
One of the resident DJs at new hip hop night Shook Ones, what he doesn't know about Hip Hop isn't worth knowing. A full range of real hip hop to make you get up there and move that ass!
-> YO MAMA DJs
Oxygen thieves. But they will make you dance so hard that your shoes will sue you.
PLAIN JANE'S ROOM:
The creative arts collective that knows how to shake a leg and nuh linga brings their unique and inimitable style to Catch. These guys set it off in a style like no other so don't miss out!
Luke H (Plain Janes Resident DJ)
Plain Jane resident DJ and artist extradonaire, Luke uses a mix of materials to create his work, whether that includes, film, graphic design or his decks. Yeah he's an artist but don't get it twisted he knows how to throw down a party in true PJ style, playing an ecletic mix of dubstep, electro, indie, pop and hip hop
Beatnik
Electrocution (7oel & Alex Da Kidd)
Fresh from playing all over the Ldn with Bangers & Mash and their own nights in Milton Keynes, the Electrocution DJ team is ready to ring in 2010 with lightening bolts. While playing ridiculously inappropriately funky opening sets for Friendly Fires, The Subways and Mpho amongst others this year they will play just about anything in their new Plain Janes residence!
(and special guests)
Venue Details:
Catch
22 Kingsland Road
Shoreditch
London
E2 8DA
Entry Fee:
£10
Tickets available at Catch Bar/Yo Mama!/Plain Janes reps from 10/12 onwards
guarantees entry, you don't want to be wandering the streets on NYE!!
Date & Time:
31st December (obviously!)
9pm – 4am
Timeout info.
Facebook event.
The boys are given away this special Xmas treat for yall:
Yo Mama - This Is How